SOGAT Exhibition
The SOGAT Exhibition is a well recognised part of the SOGAT event and year on year sponsors and service companies return to the event given the quality and number of senior level management who attend the conference and specifically visit the exhibition.
SOGAT is one of the most established and important specialised events in the international oil & gas calendar with a particular focus on the Middle East.
The Exhibition will include equipment and services focusing on the themes of the event. Interested parties are requested to contact the Organisers
Given the current and future Sour Hydrocarbon Field plans regionally the Organisers are expecting a large number of interested parties to participate and thus early stand registration is advised .
Further details on the exhibition can be obtained from Nick Coles at: nick@domeexhibitions.com
SOGAT 2019 Floor Plan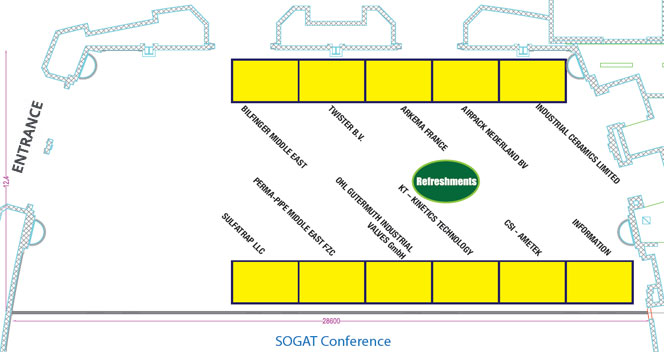 Shell Scheme